While our spirits can be enjoyed perfectly well on their own, it's always enjoyable to get creative and mix them with other delicious mixers and ingredients.
Check out some of our expertly curated mixtures below!
2oz Stillhead Rye-Shine
1oz Lemon Juice
0.75oz 1-1 Honey Syrup
1 dash Angostura Bitters (optional)
Method: Add all ingredients into shaker tin over ice, shake, double-strain. Served up in a small coupe glass.

Served: Up

Garnish: Three Skewered Blackberries

Glassware: Small Coupe or Nick & Nora

Description: Fruity, Spiced, Sweet, Bright, Refreshing
2oz Stillhead Rye-Shine
0.75oz Lemon
0.5oz Simple Syrup
2oz Seltzer Water
6 clapped Basil Leaves

Method: Clap basil leaves and build all ingredients over ice in Collins glass reserving the seltzer for last. Stir three times, garnish with lemon wheel and basil leaf.

Served: Long, on the Rocks

Garnish: Lemon wheel, Basil Leaf

Glassware: Collins Glass

Description: Herbaceous, Fruity, Spiced, Bright, Refreshing, Effervescent.
Spicy Barrel-Aged
Gin Mule
2oz Stillhead Barrel Aged Gin
Juice from 1/2 Lime
1/3 Cup of Pomegranate Juice
1-2 Jalapeño Slices
Fevertree Ginger Beer
Pomegranate arils, Grapefruit Slices
and fresh Mint for Garnish
Fill a Cocktail glass with ice.
Combine gin, lime juice, grapefruit juice, pomegranate juice and jalapeños in a cocktail shaker. Fill with ice and shake until combined (~1 min). Strain into your prepared glass. Top with ginger beer and garnish as desired! 
1oz of Apple Brandy
0.5oz Lemon Juice
0.5oz Raspberry Syrup
3oz Charm De Lile (sparkling wine)
Combine brandy, lemon juice and raspberry syrup in a collins glass. Top with sparkling wine and garnish with a grapefruit twist.
Potent Port-ables
Strawberry Daiquiri
2.3oz Stillhead Potent Port-ables Whiskey
3 Strawberries, Tops Removed
0.75oz Fresh Lime Juice
0.75oz Simple Syrup
Ice
Combine whiskey, strawberries, lime juice, and simple syrup into a cocktail shaker and muddle.
Fill with ice and shake for 20 seconds until well chilled.
Double strain into a coup glass and garnish with a strawberry slice.
2 oz Stilhead Vodka
4 oz Ginger Beer
1/2 oz Lime Juice
Mint and lime to Garnish
Fill a copper Moscow Mule mug with ice. Pour in vodka, ginger beer, and lime juice. Garnish with mint leaves and a quarter lime wedge.
2oz Barrel Aged Gin
3/4 oz fresh lime juice
1/2 oz simple syrup
1 cup arugula
Lime Wheel

Combine gin, lime juice, and simple syrup in a cocktail shaker.

Fill partway with ice, then top with arugula.

Cover and shake vigorously until the outside of shaker is very cold, about 20 seconds.

Strain through a very fine-mesh sieve into a coupe glass; garnish with lime wheel.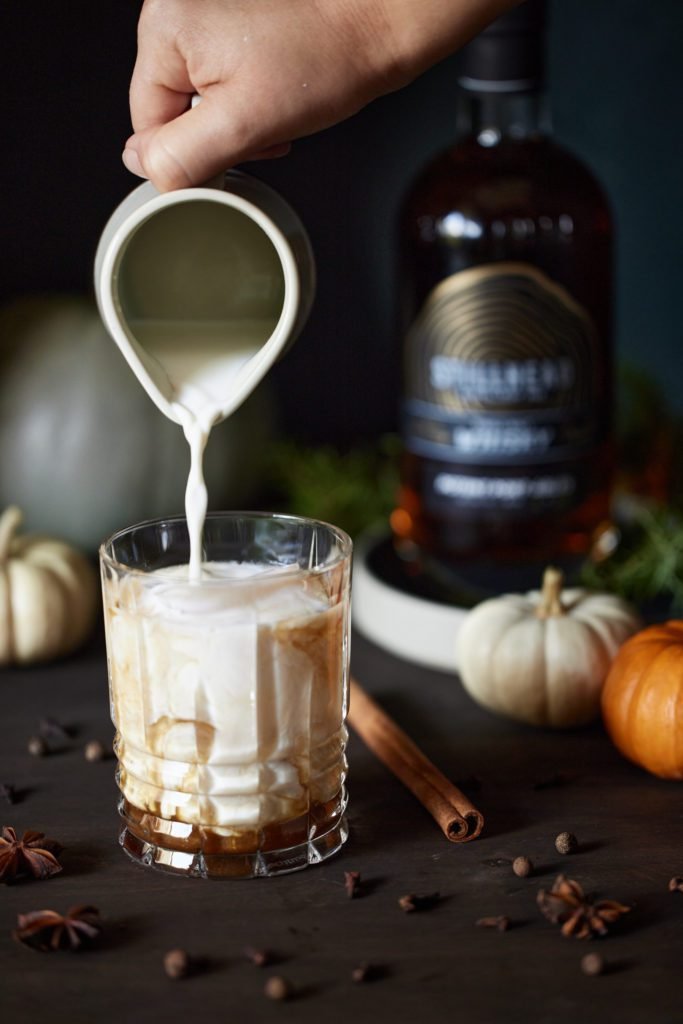 Potent Portable Pumpkin Punch
1 oz Stillhead Potent Portables Whisky
2 oz Pumpkin Spice Simple Syrup
Milk
Pumpkin Spice
Stir Whisky and Simple Syrup in the bottom of a tumbler. 

Fill the glass with ice, and top with milk.

Sprinkle with pumpkin spice.
1 1/2 oz Stillhead B-Word Whisky
1/2 lemon, juiced
2 oz apple cider
1 teaspoon agave nectar
1 egg white
Ice Sprig of Rosemary to garnish
Fill a shaker with all ingredients except ice and garnish.

Dry shake for 20 seconds. 

Add ice to the mixture and shake again until it is chilled.

Strain cocktail into a Nick and Nora glass and garnish with a smoking sprig of Rosemary.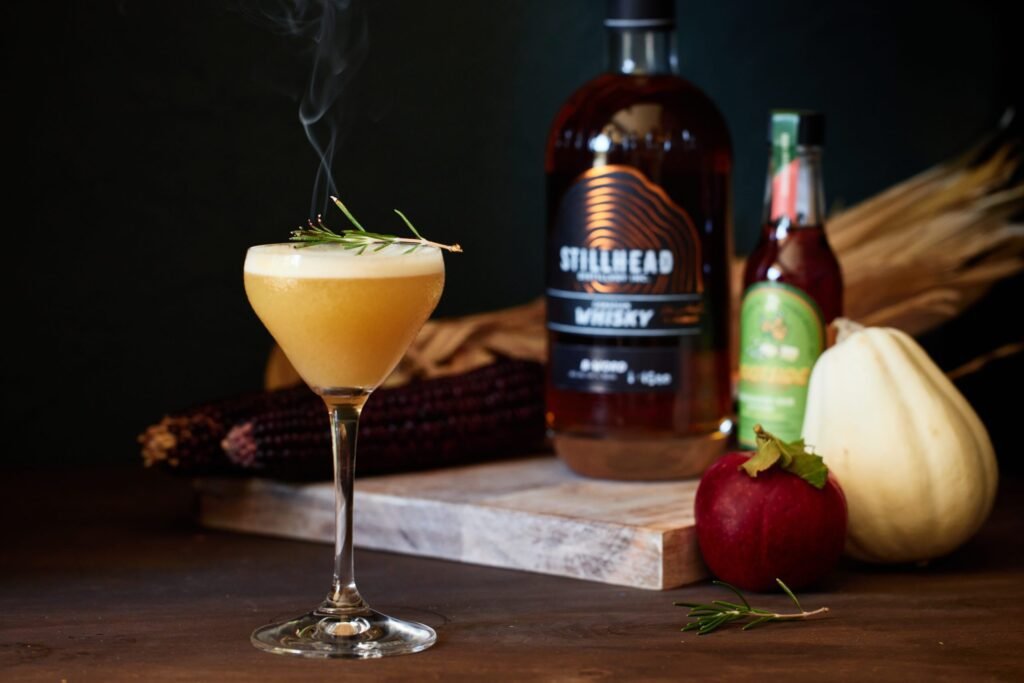 1oz Apple brandy
1oz BlackBerry gin
0.75oz lemon juice
0.5oz ml maple syrup
2 dash angostura bitters

Glassware: Nick & Nora 

Garnish: (on a pick) Lemon Rose

Style: Jack Rose / Sour
1.5oz Apple brandy
0.5oz orange liqueur
0.75oz lemon
1/3oz 1-1 simple syrup
Glassware: Coupe 

Garnish: Orange Peel Leaf

Style: Sidecar / Daisy / Sour
Strawberry Rhubarb Gin Smash
1/2 teaspoon granulated sugar
1 lime wedge
3 fresh strawberries, 2 hulled and sliced and 1 reserved for garnish
2 ounces Rhubarb gin
Club soda
Fresh mint sprig, for garnish
In a tall glass, combine the sugar and a squeeze of juice from the lime wedge. Muddle with the back of a spoon to dissolve the sugar. Add the sliced strawberries and lightly muddle.

Fill the glass with ice and add the gin. Top with a splash of club soda and garnish with the last strawberry and a sprig of mint.
Rhubarb and Rose Ramos Gin Fizz
1.5 ounces Rhubarb gin
0.5oz london dry gin
0.5oz lemon juice
0.5oz ounce lime juice
1oz Rootside Rosehip Lemonade Mix
1oz heavy cream
1 egg white
ice
soda water
Crystal Goblit Dried Rose pedals
Combine all ingredients except ice and soda in a cocktail shaker and shake vigorously for 30 seconds. Then add ice to shaker and shake a further 30 seconds. Strain into a tall chilled glass and top up with soda.

To make rhubarb syrup, cut a pound of rhubarb stalks into one-inch pieces, wrap them in cheesecloth, and simmer for a half hour in 2 C water and 1 C sugar. Strain into a glass container with a lid and refrigerate.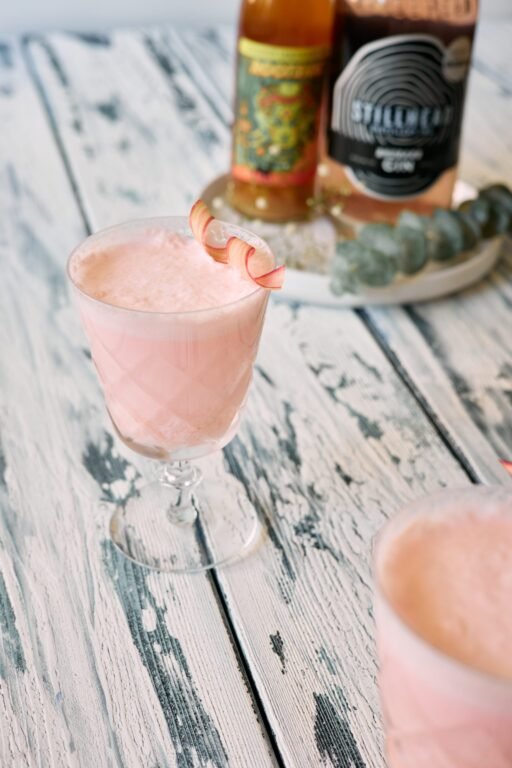 Sugar for rimming glasses (optional) 1oz Stillhead apple brandy
0.5oz rhubarb gin
0.5oz Cointreau or other orange liqueur
0.75oz simple syrup
1oz Fresh lemon juice
Moisten the rims of 2 cocktail glasses and rim with sugar if desired.

Add gin, orange liqueur, lemon juice and simple syrup to a cocktail shaker and fill with ice.

Shake until well chilled, about 20 seconds.

Strain into prepared glasses and serve immediately.
2 oz Rhubarb Gin
1 oz fresh pineapple juice
3/4 oz unsweetened coconut cream
3/4 oz rhubarb syrup,
1/4 oz lime
garnish: rhubarb ribbon, pineapple leaves, edible flower, pineapple flower chip
Juice fresh pineapple and lime.

Peel two ribbons of rhubarb with a vegetable peeler.

Spiral one of the ribbons up the side of the glass and add crushed ice.

Add the first 6 ingredients into a shaker with ice.

Shake and strain into the glass.

Garnish with pineapple leaves, pineapple flower chip, edible flower, and rhubarb ribbon.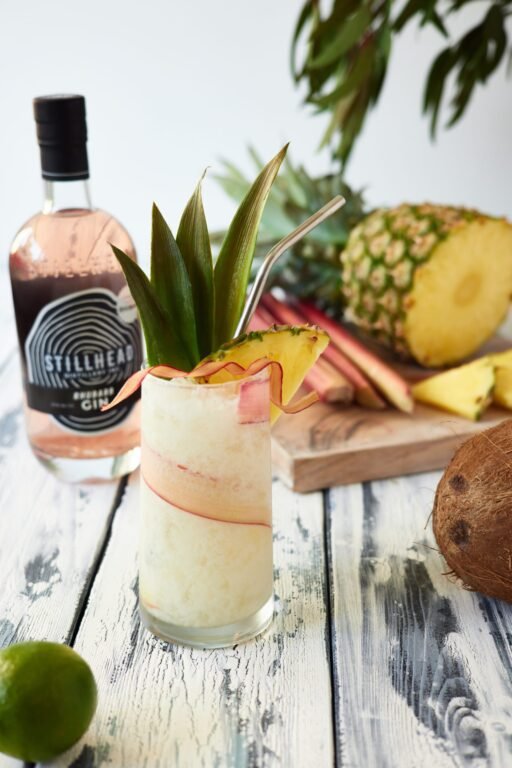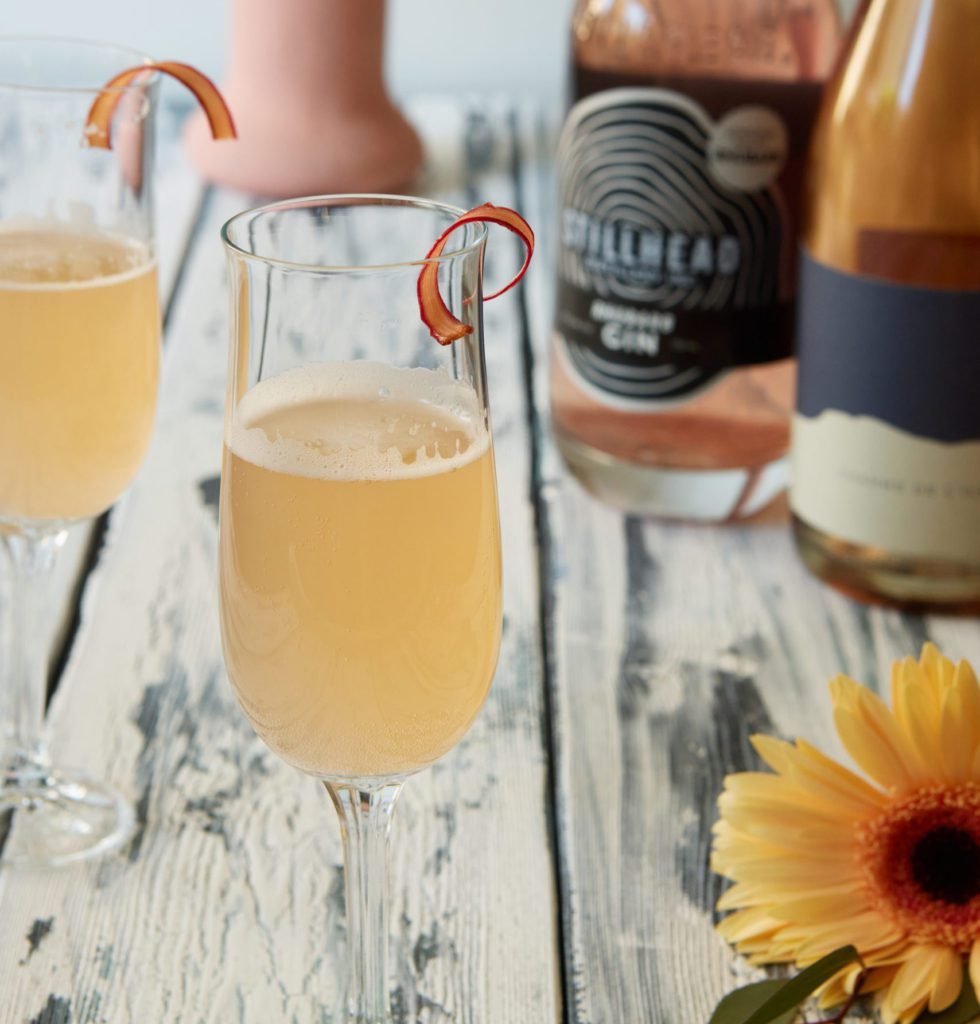 1.5oz Rhubarb Gin
1oz Soda
5oz Averill Creek Charme de L'ile , chilled
Mix into a wine glass. Done!
Bourbon Peach Lemonade Pitcher
3 cups filtered water
1/3 cup granulated lemon zest sugar
1 cup freshly squeezed lemon juice
2-3 ripe peaches, pitted and sliced
6oz Stillhead Rye Whisky
3 sprigs fresh mint, plus more for garnish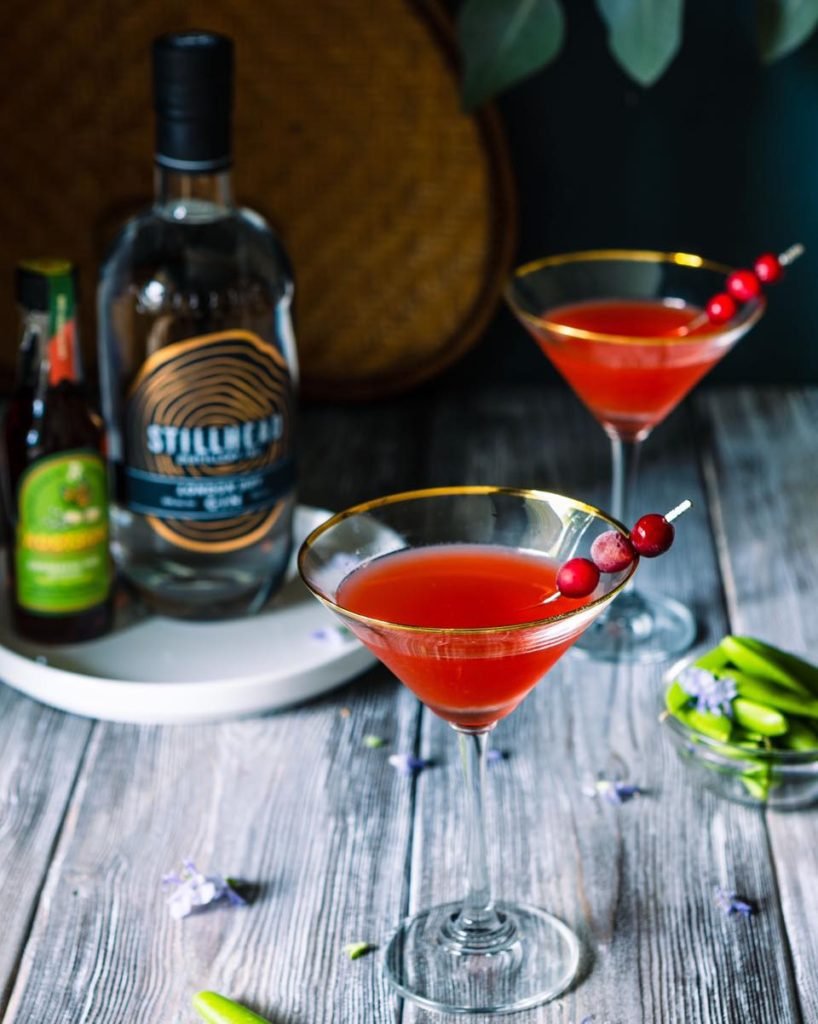 2oz Rhubarb Gin
0.75oz Organic Cranberry Juice (Tart)
0.75oz Snap Pea Cordial
1 Dash of Orange Bitters
Add all ingredients into a shaker tin.
Shake to chill and dilute
Double strain into small coupe glass
    Garnish: Flamed Orange Coin / Cranberries
    Glassware: Small Coupe or Nick & Nora
25g Sugar
1cup Filtered Water
1.5oz Lime Juice
30g Citric Acid
45g Snap Peas

Combine ingredients in a blender
Blend on medium for 30s
Strain with a fine strainer
Bottle and refrigerate 
Want to unleash your inner mixologist?
Check out our Facebook or Instagram Pages for more awesome drink recipes.