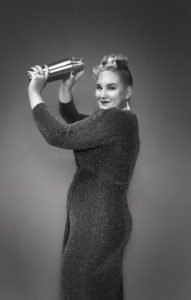 Meet Melissa McKinney, entrepreneur and owner of Victoria Whisky Tastings. Melissa has spent the last two years of the pandemic growing her new business, running online whisky tasting events for people in the Victoria area. We interviewed her in honour of International Women's Day to ask a few questions about her quickly growing business and how she feels about being an influential Woman in Whisky! 
Growing up with a Sommelier for a Grandfather

 When Melissa was young, her grandfather who was "basically a sommelier" taught her about wine and spirits. "It was really pivotal for me to have that appreciation inculcated at a young age, getting to choose the wine for family dinner at 8 or 9 years old. It was things like that that made me understand the power of spirits and how you can bring people together and share community." 
Over the years, Melissa always had a "boozy side hustle" whether that be bartending or offering wine tastings outside of her 9-5 job. She knew she really loved these side jobs and wasn't sure how she would make a living out of them, but it was clear that it needed to be in her life.  "About 8/9 years ago I decided to really dig into whisky because it was something I truly loved, and I had never sat down to educate myself on it.  I started attending whisky classes that I found, met people in the Victoria whisky community and attended events like the Victoria Whisky Festival every year. So, I was in this great position to get to know these people and make these connections and eventually I did a whisky ambassador program which really helped me see I was ready to start my business." 
Although she felt she still didn't know how exactly to start business, she knew she would get there, and when people started asking her to do whisky tastings for them, she realized she loved the teaching aspect along with the public speaking and thought to herself "wow, this is genius!" and off she went. And so in 2018, Victoria Whisky Tastings was born and her passion shifted into a business and way of life. 
Taking Grandpa to the Gala:
This March, Melissa was the recipient of a $1000 scholarship to be used towards her Certificate of Distilling Program which has been on her educational bucket list for several years now. "I was already in Vancouver for Cocktail Week when they announced that I had won the scholarship and they told me I should come to the Gala! So off I went to purchase an emergency gown and they told me I could bring a plus one and because my grandpa is so integral to my story, and also lives in Vancouver, it was only natural that he had to come with me." So off they went, all dressed up for their first big event since the beginning of the pandemic. Melissa was presented with the scholarship, enjoyed an evening of cocktails and friends and was able to share it all with her Grandpa. 
 Adapting to Pandemic Life 
Pre-covid, you could find Melissa doing events around the city – medium to larger scale – whisky and spirit tastings with her focus being on local distilleries. So when Melissa's friend in China was being locked down at the beginning of 2020, she decided it was apparent that COVID-19 was on its way to North America and she mentally prepared to shift her business to a virtual setting.  
As predicted, everything quickly fell apart for work, school, and life for many people in March of 2020. Melissa quickly pivoted to an online platform for her business and started packaging whisky samples and delivering them right to doorsteps for her classes. "We democratically named ourselves the Pants No Pants Whisky Club because it was all virtual. I didn't wear pants to a number of classes, and I know some other people didn't either!" After starting the virtual club, it blew up immediately and Melissa began teaching weekly Zoom classes. "I was creating classes every week, posting them to the private group in our little online community, crafting everything, pouring and packaging samples, creating info sheets and tasting sheets etc. and so it was a lot right away but there was such a call for it and everyone was stuck at home and they just wanted content and this was such a great way to bring people together." 
The club now has over 350 members and climbing! "And the fun thing about us going virtual is I can include people from across the world and we had different whisky ambassadors, authors, and distillers from around the world join us so they could share their knowledge and passion and we continued to grow as a group."
An Inclusive Space for Everyone
  Melissa prides herself on being inclusive to beginners and people from all walks of life. "My club sits around a 50:50 ratio of men to women, the last few months it has been up around 55-58% women but I market my classes to all humans. We don't do pretentiousness, we have a good time and it's a really supportive environment. Because of that, a lot of women feel safe coming." Virtual classes also acted as an aid for inclusivity during the pandemic and beyond. "The virtual platform helped too because a lot of moms are at home, and it opened it up to a lot of people with other obstacles where they could now take part with more ease. We've done some ladies' classes as well, like Glam Night where a makeup artist came in and did everyone's makeup and we drank whisky. So we have lots of fun things happening for women in my club and in general I think the whisky world is opening up."
Inspirational Women 
Over the past decade Melissa watched the Victoria Whisky Festival grow from more than just women working the event to seeing a definite increase in the number of women attendees. "I went up and introduced myself to the women working at these events and at that time there was this really epic team of ambassadors that were part of Glenfiddich and many were women." Over the years Melissa has formed strong relationships with the women she has worked with in the whisky industry, she states, "I would have a hard time saying that I would be right here without them being there. I'm creating a whole Women Who Whisky class looking at women distillers around the world. I see it as my sort of social responsibility because I was given these amazing mentors and now it's my turn to help teach the next generations."
Plans for the future
Melissa's plans for the future are focusing on both growing the business and her own knowledge. Big plans involve the comeback of larger public events and finding a way to engage more with tourists outside of just the locals. "I have a great foundation and I want to turn that into the next layer. The Certificate of Distilling I mentioned is very important to me because during Covid there weren't a lot of opportunities for me to learn. It's time for me to learn some new tricks so it's really important for me to set aside time for me to learn and to focus on what I need to know for the next level of business."
An inspirational Woman in Whisky to say the least! If you're curious about attending events or joining Melissa's club, look her private whisky group up on Facebook at Pants No Pants Whisky Club and follow her social media pages at Victoria Whisky Tastings.